Links
★
Official LM.C Links
★
★
LM.C Fan Group Twitters
★
★
Official LM.C Fanmail Address
★
★
Where to find us
★
★
SUPPORT LM.C
★
Buy from YesAsia
Buy from CD Japan
All images and content on this forum is © to it's respective owners/creators.
All official images of LM.C and their Logo are © to LM.C and Pony Canyon.
All images that are not owned by LM.C and Pony canyon are © to their original creator.
No copyright infringement is intended by the use of official content on the site.
We hold NO responsibility for what our members post on this website and we respect their right to freedom of speech.
If there are any problems with content use, please contact the forum owner (Kei) at madlm.cfamily@gmail.com and we will try and resolve the issue as quickly as possible.
コンテンツの利用に問題がある場合は接触 madlm.cfamily@gmail.com 。私たちはできるだけ早く問題を解決します。
私たちの悪い日本人して申し訳ありません。

I tried translating the blog post Maya posted a while ago! Seriously, this is my first time so please excuse me if you find it weird.
And the way Maya typed the Chinese was weird but cute and understandable! :D
I'm maya.
How's everyone?
Even though Japan was greatly affected by the earthquakes, i'm still writing songs at home, I'm energetic as usual.
According to the schedule , we should be starting the LIVE now.
Is everyone feeling lonely?
To LM.C , Taiwan was the country we visited but to LM.C or myself, Taiwan among all the countries we visited, it brings the most special feeling to us.
That feeling of the first LIVE in Taiwan , i still remember.
Never heard such loud cheerings. Trying your best to sing the lyrics with me.
It makes me feel that everyone is excitedly waiting for us. Everyone touches me.
I want to see everyone soon.
No matter what happens, no matter how several times it was postponed , i wouldn't lose and definitely go and see everyone. This feeling will be much more exciting when we meet the next time, and the love will be greater than before. I definitely think it will be. So there's no need to be feeling lonely!
Really, thanks so much to everyone.
6/5 , See you @THEWALL
In the picture,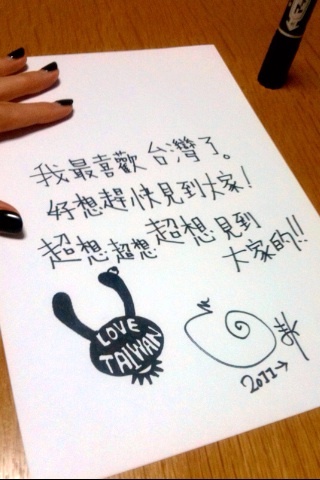 [ I really love Taiwan. I want to see everyone soon! Really, really, really want to see everyone! ]
Ma.
Fan





Posts

: 26


Stars

: 0


Reputation

: 0


Join date

: 2011-03-18


Age

: 24


Location

: Sinagpore



:*.;".*・;・^;・:\(*^▽^*)/:・;^・;・*.";.*:
Thank you so much for translation and sharing with all of us!!
maya really care about his fans. He's so cute! ♥
Fan





Posts

: 6


Stars

: 0


Reputation

: 0


Join date

: 2011-03-18


Location

: Singapore



Thanks for translating! I hope they will have great time in Taiwan :DD
Fan





Posts

: 55


Stars

: 0


Reputation

: 0


Join date

: 2011-03-21


Age

: 32


Location

: Indonesia



Thanks for sharing ♥
I want to see them too ;_;
SUPER DUPER MADIE





Posts

: 267


Stars

: 308


Reputation

: 3


Join date

: 2011-03-15


Age

: 32


Location

: Paris, France




---
Permissions in this forum:
You
cannot
reply to topics in this forum