Links
★
Official LM.C Links
★
★
LM.C Fan Group Twitters
★
★
Official LM.C Fanmail Address
★
★
Where to find us
★
★
SUPPORT LM.C
★
Buy from YesAsia
Buy from CD Japan
All images and content on this forum is © to it's respective owners/creators.
All official images of LM.C and their Logo are © to LM.C and Pony Canyon.
All images that are not owned by LM.C and Pony canyon are © to their original creator.
No copyright infringement is intended by the use of official content on the site.
We hold NO responsibility for what our members post on this website and we respect their right to freedom of speech.
If there are any problems with content use, please contact the forum owner (Kei) at madlm.cfamily@gmail.com and we will try and resolve the issue as quickly as possible.
コンテンツの利用に問題がある場合は接触 madlm.cfamily@gmail.com 。私たちはできるだけ早く問題を解決します。
私たちの悪い日本人して申し訳ありません。

MJP Historias de Twitter: ¿Quién estuvo en el Budokan esta semana? (Además de ViViD y LM.C).
--Esta semana fue genial para el Visual Kei, ViViD y LM.C estuvieron presentándose en el Budokan, ambos por primera vez. Mirando twitter en los días siguentes, reveló quien más estuvo ahí para verlos ... echemos una mirada.
Ko-ki (ViViD): Mañana es eventualmente el Budokan. Estoy ansioso.
Hiroto (Alice Nine): Asegúrense de hacer felices a esas miles de personas!
Ko-ki: Daré lo mejor de mi, Hiroto-san!
Kouki (D=OUT): Ir al concierto de ViViD en el t Budokan fue realmente motivador! Todos los miembros de ViViD son dignos de confianza, por lo tanto sus sentimientos son fácilmente tomados.
Ayame (Matenrou Opera): Vi a ViViD en el Budokan oy. Con su presentación no parecía ser la primera vez que se presentaban ahí. Fue muy motivador. Gracias por el gran trabajo.
---
Kamijo (Versailles): @Aiji_LMC Bonjour Aiji-kun. Finalmente es hoy! It's finally today! Todo Versailles los está apoyando.
Hakuei: Budokan ahora. HAKUEI-punch!
Ryutarou (Plastic Tree): Vi un gran concierto. Budokan es realmente un gran lugar. Si.
RUKI (the GazettE): Ayer fui a ver a LM.C tocar en el Budokan. El sentimiento fue muy balanceado y fue muy motivacional. ROCK THE LM.C!
Hiroto: El concierto de LM.C en Budoukan mostró cómo deberían vivir los hombres.
Como esperaba, la música conmueve los corazones de las personas y los hacen bailar!!
El amor de Aiji prendió fuego a mi corazón.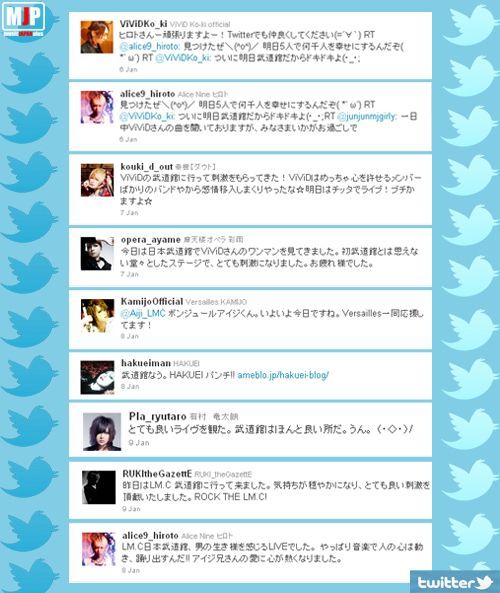 Créditos:
http://www.musicjapanplus.jp/articles/?action=article_page&articles_id=4467&article_data_id=7020&page=1[/url]
Translator





Posts

: 40


Stars

: 20


Reputation

: 0


Join date

: 2011-03-27


Age

: 26


Location

: Venezuela





Waa q genial :3
Me hubiera encantado estar ahi T___T
Fan





Posts

: 48


Stars

: 0


Reputation

: 0


Join date

: 2011-04-06


Location

: Mexico




---
Permissions in this forum:
You
cannot
reply to topics in this forum